Aksel! Glenn! Come on boys, it's time to go get screws!
So, you're a first time floating shelf or floating mantel installer and about to embark on your bracket installation. Let's get you ready to go! Shelfology has got you covered for the information you'll need, and the fasteners you'll want, to get the job done right!
We have a standard, and that standard is strength.
We're already stoked that you've chosen one of our rad floating shelf brackets for your project. So let's talk for a minute about what makes Shelfology brackets stand out from the rest. In a world where you can go online and just purchase a bracket from anywhere, what makes us different? First, we use only American premium grade steel. These brackets are born in the USA and fabricated on site here in Rexburg, Idaho. Second, we'll never hand off our product to a factory line that cares little or nothing about what you get. We have continuously set the industry standard. Our brackets are engineered and designed by and for professionals. Our no-corners-cut approach is applied to everything we do. Not every bracket maker will take the time to do the little things that the professionals are looking for — it takes too much time and effort and increases their costs. But that's not us. When you are installing, you'll see how perfectly the GRK screws fit into the countersunk holes in our bracket. It's designed to ensure that you get the strongest installation possible. Thinking, "But I'm not a building professional!" right now? You're still in the right place. Our goal is to help every customer install strong, safe shelves and become an installation expert! So, let's start at the very beginning with your first Shelfology bracket installation.
First. The drywall anchor.
In a perfect world, every hole in your backbar would hit a stud, and every radio station would play "Last Christmas" year round. But, sadly, this is not reality. Some of those holes are going to miss a stud and go straight into drywall. Your bracket needs to be installed into at least 2 studs in the wall, ideally you're going to try to hit every stud possible. But, when there are still points to secure without studs, these Toggler Mini Snap-Skru anchors can hold up to 65 pounds of weight each when installed correctly. You'll hear the telltale "POP!" from behind your drywall when you add in the screw and the anchor opens to secure itself to the back of the wall. This has got the grip you want, to carry the weight you need.
Don't forget that your drywall anchor has a partner in crime — a 1/4" drill bit. You're going to want to use this drill bit to make a pilot hole in the wall before you add that anchor in and start drilling. It will go in straighter and smoother with a pilot hole to guide it.
We recommend Toggler drywall anchors
Second. The wood screw.
Ah yes, the wood screw, second only to the wood nymph in its fantastical creative abilities and power to defy gravity and produce magical shelving! We here at Shelfology are aiming to build you from a newbie to an expert installer, and these wood screws are going to get that skill set to the next level!
GRK #10 wood screws, 2 1/2" length are our screw of choice. You're using one of the strongest screws on the market. GRK screws fit perfectly into our countersunk holes.
When it comes to installing shelves, every expert - this is now you - knows that studs are your BFF. There's nothing a manly stud loves more than to give you 110% support, and that's exactly what this gnarly beast of a screw is going to demand! It's designed to dive right into your studs or blocking. The 2 1/2" length provides some extra leverage to hold the weight of the heaviest Aksel or Glenn. You'll notice it's got a star shape on it's nice flat head, which is called a Torx screw.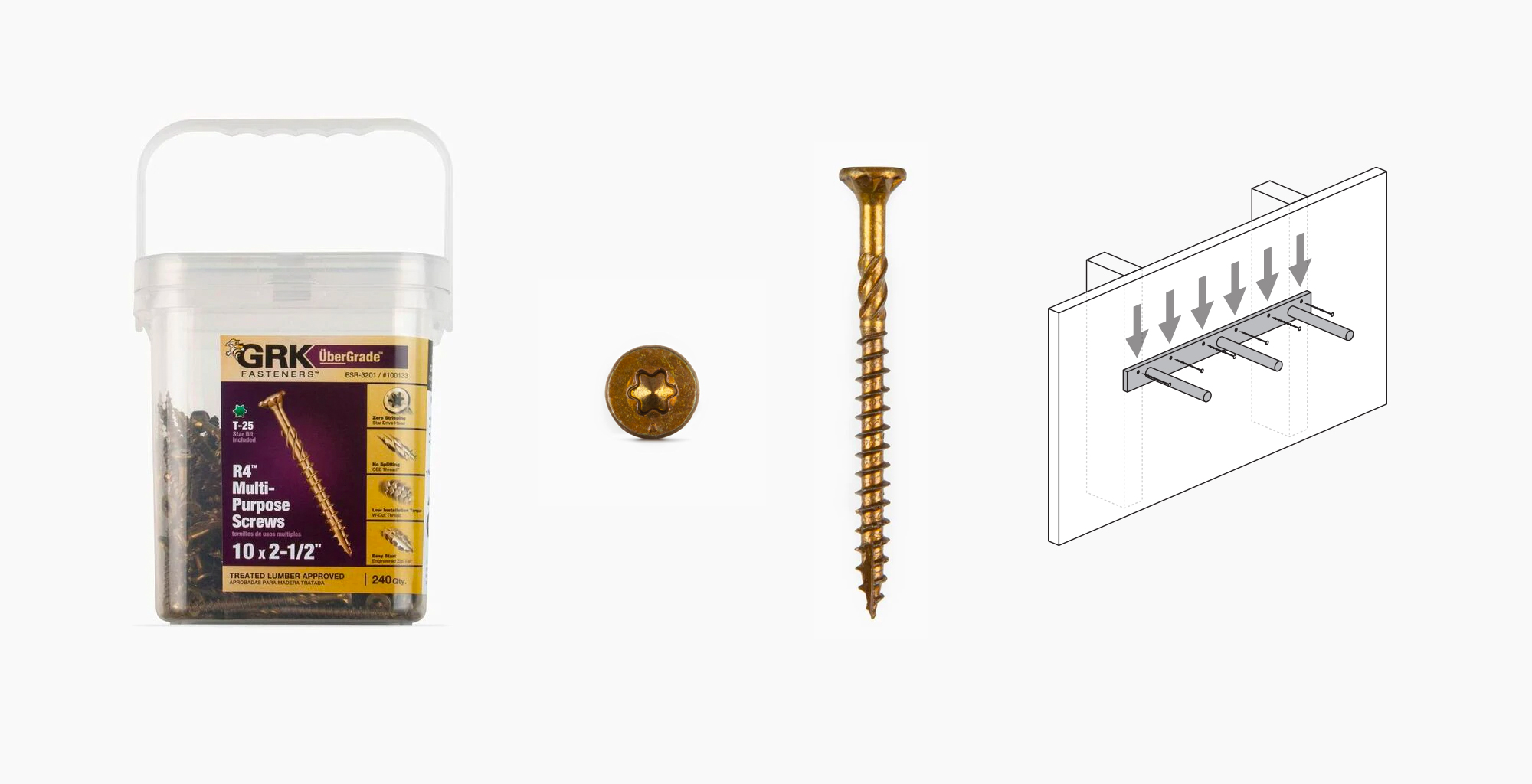 Like the drywall anchor, the Torx screw also has a partner in the Torx drill bit- but, that's not going to show up in your standard off the shelf drill set. If you look on the GRK box, you'll see the T25 symbol. The good news is that the screw makers, in all of their woodworking wisdom, have included this drive bit when you purchase here.
These GRK wood screws will drill in right and tight to the countersunk holes in our bracket back bar (like we talked about earlier) locking your bracket in with the most secure fit to your wall. They will fit right into the Toggler Wall Anchors, when you're not hitting a stud, making your shelf not only beautiful to behold, but stunningly sturdy.
It's go time!
So let's review. To secure your brackets into drywall, here are the tools and fasteners you'll use:
Drill/Driver
1/4" phillips bit
Torx T25 bit (included in a box of GRK screws)
Before your brackets arrive, check the deets on your install guide, watch our video on a full install and don't forget to gather up all tools and fasteners ahead of time! Trust us, you'll be glad you did!
Friend, with your newfound superior knowledge, you are ready to crush this install. (And if you get stuck, don't worry, our M.O.M.S. are standing by to help!)
More shelf geek knowledge: